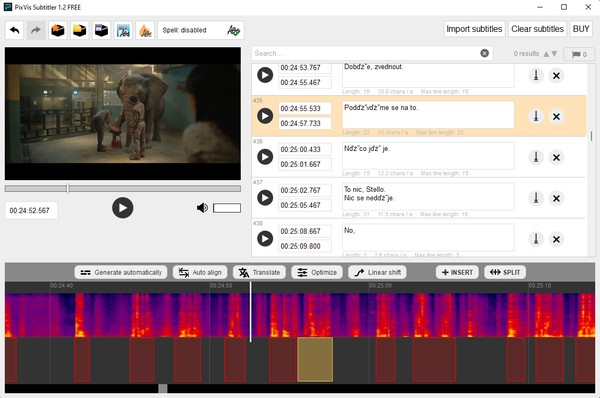 PixVis Subtitler 1.08
Edit subtitles for video with AI functions
Automatically recognize speech in different languages
Automatically generate subtitles with just one click
Auto-sync transcribed text to audio
Automatically align existing misaligned subtitles to audio
Easily translate subtitles to different languages
Optimize subtitle timing for better experience
Spell checking available for different languages
User-friendly drag & drop interface
Audio spectrum available for easier editing
Burn subtitles in video
Everything is processed offline on your computer without the need for an internet connection or uploading to the cloud.
No subscription or monthly fees. This is one time payment software.
PixVis Subtitler comes in three editions
We offer FREE version, PRO version and MAX version. Compare the different editions.
Available for Windows, x64 Portable version.
Watch the video to see how the PixVis Subtitler works
Compare different editions
FREE
PRO
PRO MAX
Easy drag & drop interface

YES

YES

YES

Audio spectrum generation

YES

YES

YES

Automatic subtitles generation AI

NO




(try only)

YES

YES

Automatic speech recognition AI


Automatically creates transcript from audio

English, German, French, Russian, Spanish, Italian, Chinese, Japanese, Portuguese, Turkish, Ukrainian, Vietnamese and others

NO




(try only)

5 min
English only

YES

Auto-sync transcribed text to audio AI
Creates subtitles synchronized to audio from transcript

NO




(try only)

NO

YES

Automatic alignment
of existing misaligned subtitles AI

NO




(try only)

YES

YES

Translation guide
Easily translate subtitles to different languages

NO




(try only)

YES

YES

Subtitle optimization

NO




(try only)

YES

YES

Spell checking (70+ languages)

NO




(try only)

YES

YES

Burn subtitles in video
5 min only

YES

YES

Batch subtitles generation
Automatically generate subtitles for multiple video files

NO

NO

YES

Import subtitles from video

YES

YES

YES

Import formats
SRT
SRT, SUB, SSA
SRT, SUB, SSA
Export formats
SRT
SRT
SRT
Price
free
$ 29.00
$ 49.00
$ 49.00
$ 79.00
DOWNLOAD
BUY

PRO

BUY

PRO MAX
Additional content for PixVis Subtitler
Download additional models for speech recognition in different languages
Download additional spell checking dictionaries (70+ languages)